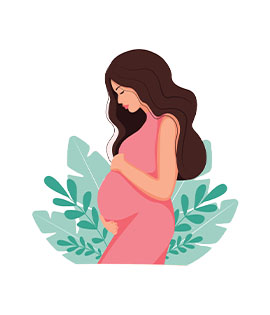 Antenatal Screening Profile
CBC, Blood Group ABO & Rh, VDRL, Complete Urine Examination, RBS, HIV 1& 2, HBsAg, Anti- HCV, TSH

Antenatal screening mean tests that are suggested by most gynecologists to be performed preferably during the first trimester of pregnancy.
It's an important tool for knowing the well-being of a pregnant woman and her developing child.
Tests Parameter:
Complete Blood Count, Blood Group ABO & Rh, VDRL, Complete Urine Examination, RBS, HIV 1& 2, HBsAg, Anti- HCV, TSH
What is Antenatal Profile?
Pregnancy is an important phase in a women's life and the health of the child is directly related to the health of the mother. The first trimester of pregnancy is the most crucial period, and requires thorough evaluation. This package is unique since it tests the nutritional status and blood group of a pregnant female. It also screens for important infectious diseases like HIV, Syphilis and Hepatitis B in pregnant female which can be transmitted from mother to her child. Antenatal tests are important tools for protecting the health of a pregnant woman and her child. Antenatal Profile
Process:
9 -12Hrs. (Overnight) fasting is preferred.
The lab technician will collect blood sample from the patient. This will be processed in a lab and the report provided usually within 24-48 hours.
Free Home/Office Sample Collection
9 -12Hrs. (Overnight) fasting is preferred.