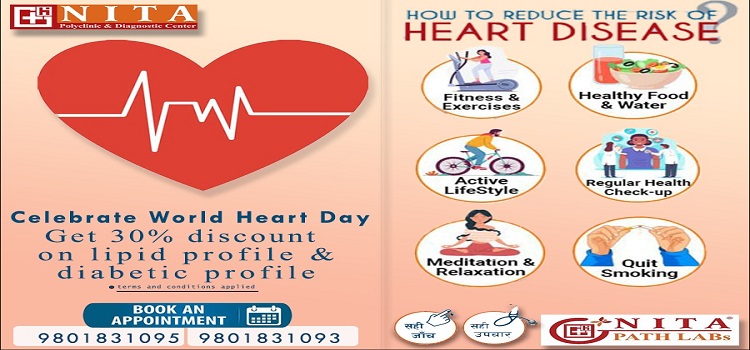 Celebrate World Heart Day 29 September
World Heart Day 29 September, check your heart health by taking a Lipid Profile test and Diabetes Screening Tests with NITA Labs at just Rs 1995. What's more, get a flat 25% OFF on Nita Nirogyam and Nita Plus Preventive Health Check-up Packages. Offer valid till 7th October

Tests Parameter @ Rs 1995
Blood Glucose F, Blood Glucose PP, HbA1c, Lipid Profile, Kidney Profile, Urine R/E
This package has tests to check for :
Blood-sugar levels to determine diabetes risk
Heart risk profile and cholesterol levels which effect the heart
Kidneys, which produce urine, and chances for kidney disease
Process :
These tests requires 10-12 hours of fasting (except water). PP sample 2hrs. after meal
The lab technician will collect blood sample from the patient.
This will be processed in a lab and the report provided usually within 1 hours of PP sample.